The CARRIDA Software-Engine
Our hardware-independent software library works both on PCs running Windows or Linux and ARM based Edge devices running Linux or Android.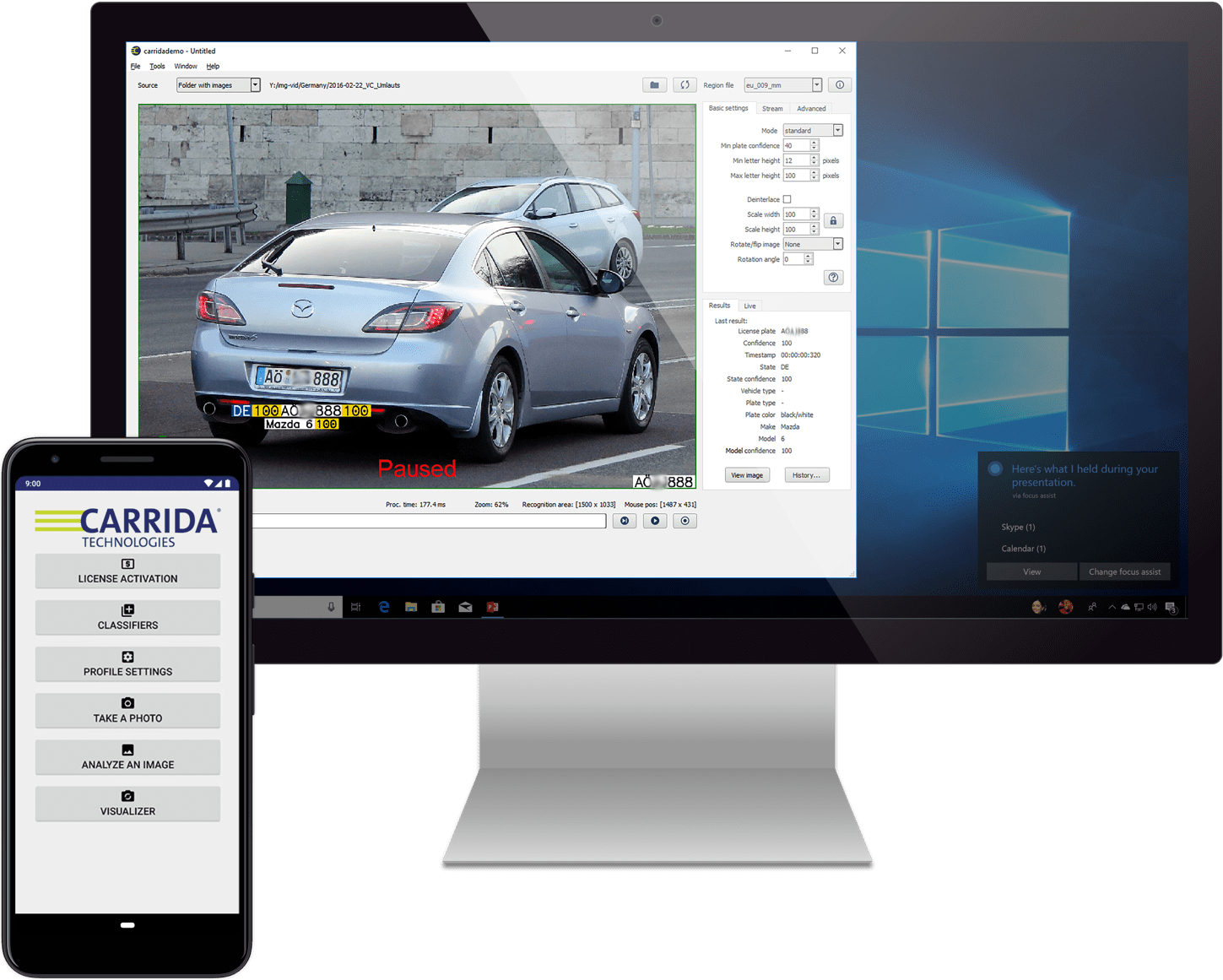 Reliable, flexible and versatile
Whether number plates, barcodes, symbols or special fonts, the CARRIDA Software solution is a powerful OEM library that offers extremely reliable high-speed recognition. It can be easily integrated into a wide range of existing monitoring applications (support of C and C++ via API).
Also suitable for difficult cases
Our solution is not only unbeatable under laboratory conditions: Poor lighting conditions or constantly changing light irradiation are no problem for the CARRIDA software engine. Even damaged or bent license plates are still detected with an accuracy of more than 98 %.
Both our ALPR (Automatic License Plate Recognition) and ANPR (Automatic Number Plate Recognition) software are suitable for both stationary and mobile usage. Data transfer happens via standard network protocol, so the CARRIDA solution can be easily integrated into existing systems.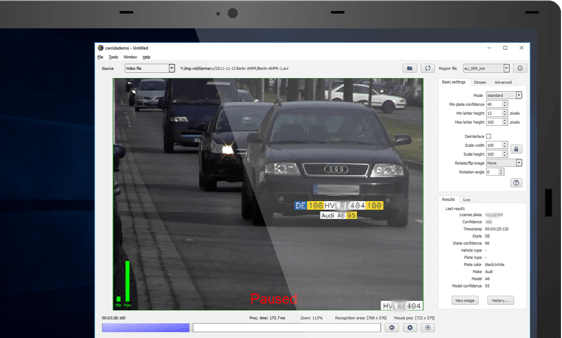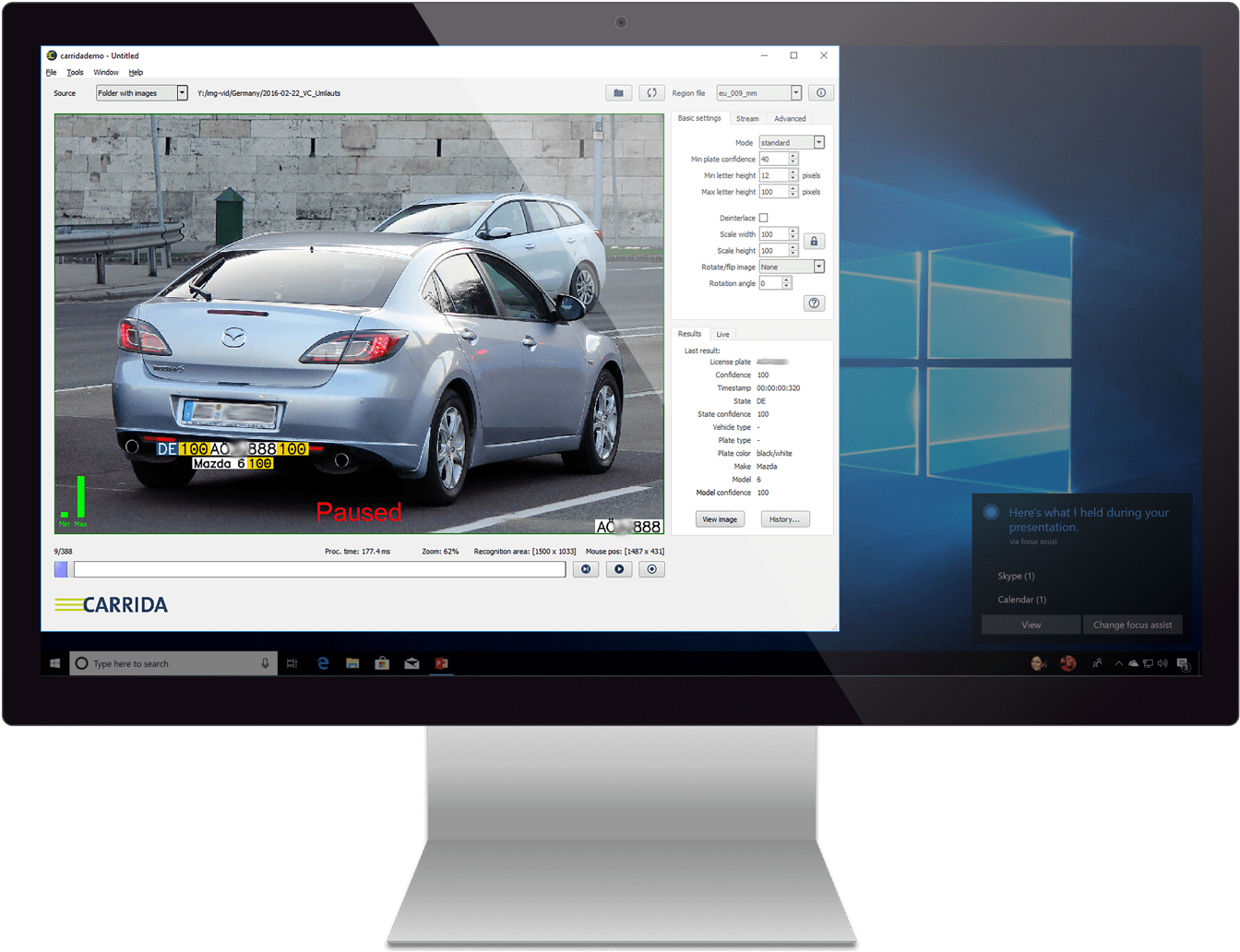 Our Make and Model recognition offers even more security, but also additional functionality. In addition to the number plate, we are able to check whether the vehicle type matches the number plate. It is also possible to categorize vehicles whose number plates are not stored in the system itself. This allows intelligent traffic management systems and parking providers who do not know the majority of their customers to increase their efficiency enormously.
CARRIDA uses Deep Learning for Make and Model recognition. This means that the computer itself "learns" how to recognize a particular vehicle type. Therefore it is possible to run much more complex and thus more reliable recognitions. This was introduced with software version 4.3. Like all CARRIDA software, it is hardware- and manufacturer-independent (prerequisite: use of IP camera streams).
Impressive: The features of our software engine
Configuration and Compatibility
No complicated and labour-intensive construction: The initial setup is done just within a few steps

.

Free image and video format selection: We support all common formats, whether from file or memory.

Hardware independent: Integration of IP, USB, GigE cameras, but also analog camera models (via frame grabber).
License plate recognition
Can be used worldwide: license plates from all countries of the world are recognized with high accuracy (>98 %).

Also special formats: Our software easily identifies two-line license plates.

No limit: No matter how many vehicles are in the picture: Every single one is recognized.
Live streaming: The data is not only on the camera, but always exactly where you need it.

Security standards: The entire data and image transfer is encrypted.

Only for authorized persons: Access to the software is protected by software protection or Crypto-Dongle.
Typical reading accuracy: >98% (including damaged or bent license plates)

Processing time: approx. 30ms (depending on platform)

Quality parameters can be called up individually for each number plate and/or character read

Advanced angle correction in two planes

Use of special neuronal technology, which is constantly being developed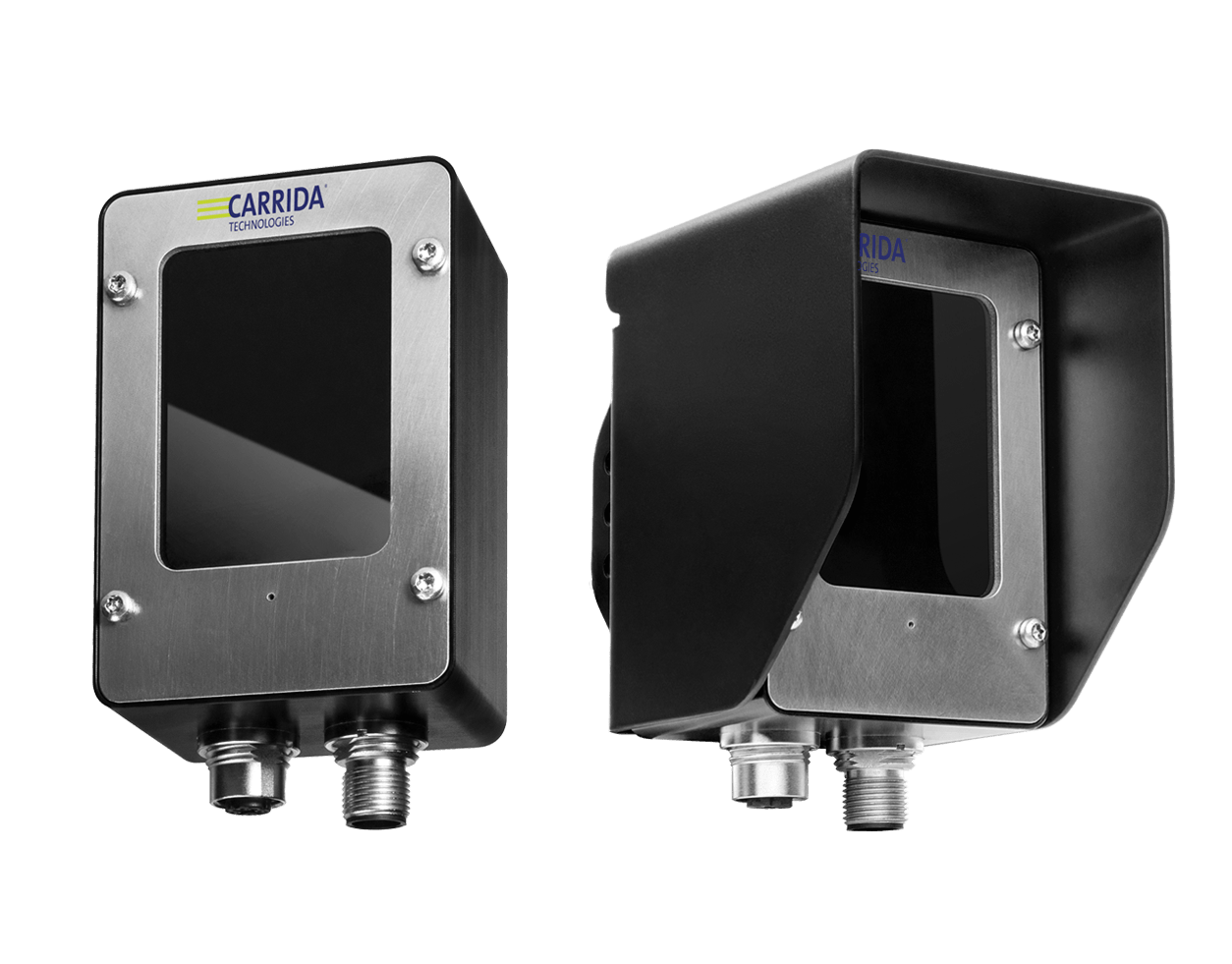 Runs completely without PC:
Probably the smallest standalone ALPR/ANPR camera in the world requires no additional hardware.
Our intelligent camera with integrated software engine is our all-in-one carefree package for you. The hardware of the camera is based on the powerful VC Z-series and allows our software to evaluate all data directly inside the camera.
ARM®/Linux® runs on the very space-saving camera, the energy requirement is extremely low and there is seldom a need for maintenance.
Android APK for mobile Apps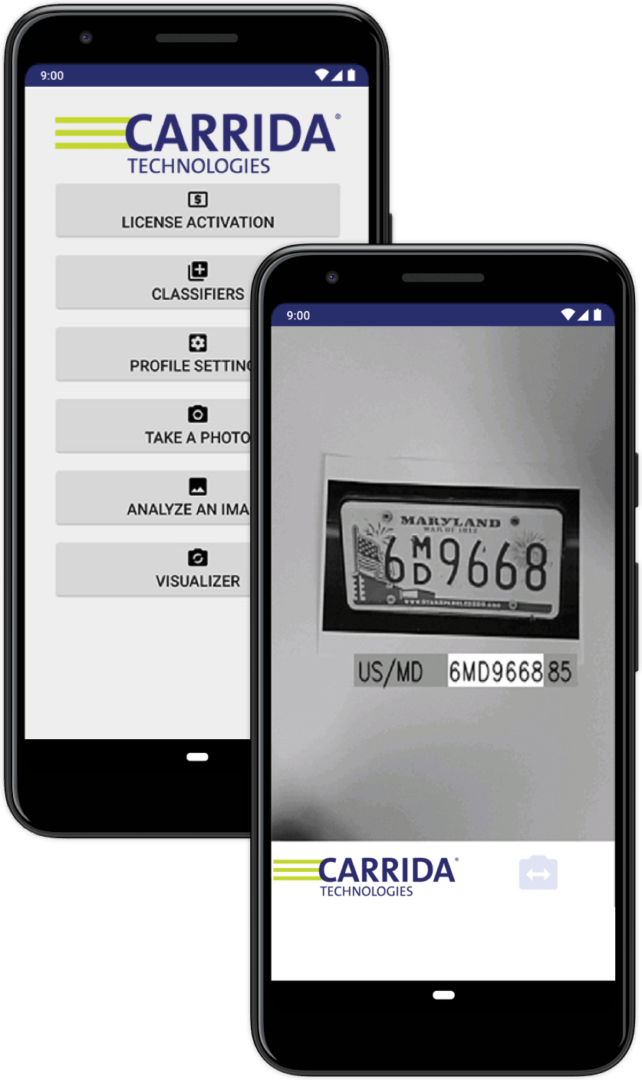 CARRIDA runs optimally mobile on Android. With our SDK you can easily integrate CARRIDA into your Android app! Using the supplied example app including source code, the integration is easy to implement.
On a typical middle class Android device CARRIDA achieves a reading time of approx. 300 ms for Full HD images (incl. country recognition).
ARM CPU with neon SIMD support
at least Android Lollipop (Android 5) with API level 21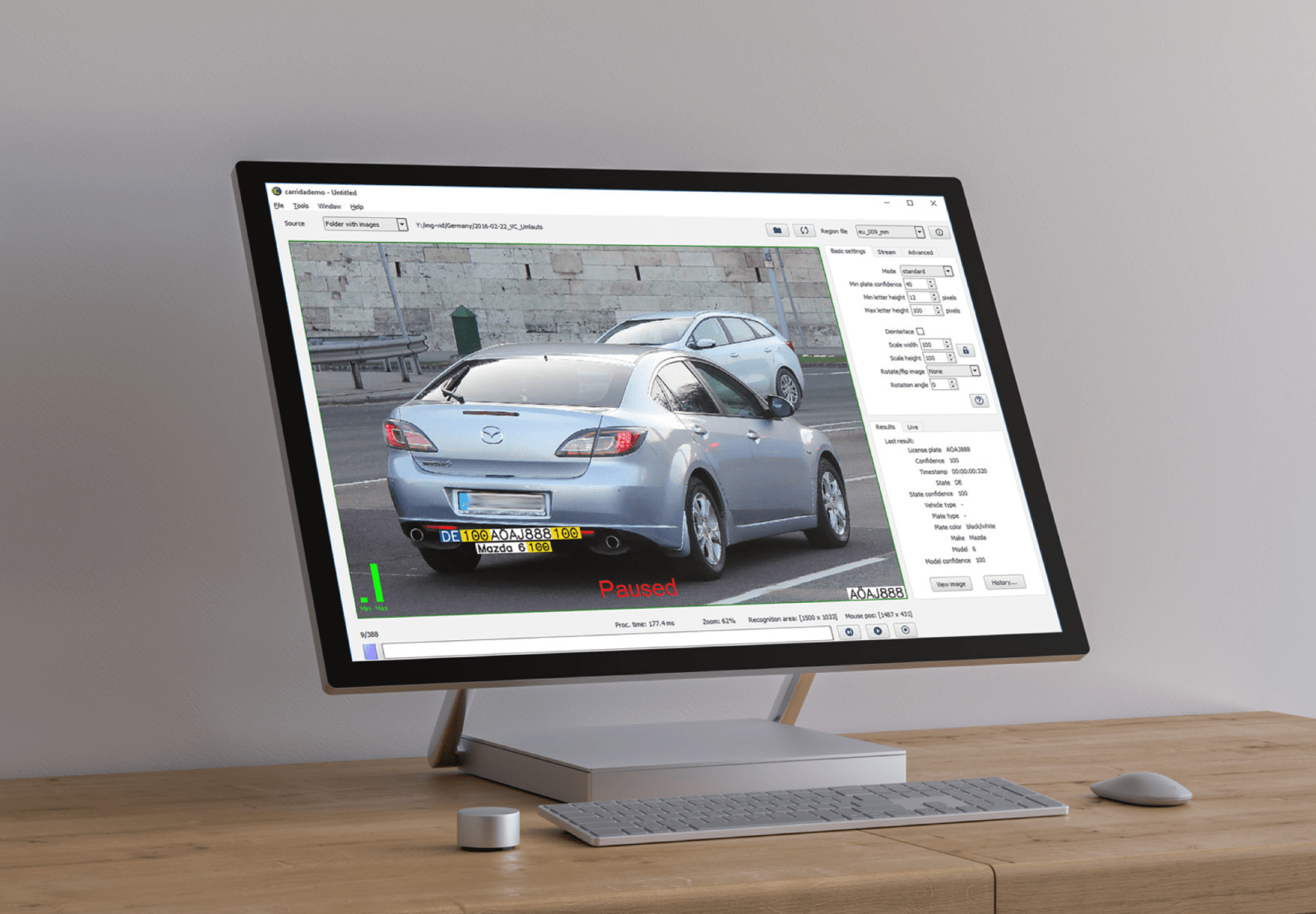 Flexibly adaptable, according to your preferences
Should the term end after a certain period or should it rather end after a fixed number of vehicle detections? Or do you simply want to make a spontaneous decision? You decide!
You choose the settlement type
According to a monthly rhythm defined by you, per vehicle detection or once again completely different? You decide!
Better a cloud solution than local software? Do you have special requests? Contact us – we will find a customized solution for you!
The CARRIDA software engine supports the majority of camera types available on the market
Embedded-Platform-Cameras